Effectively collaborate in diverse and interdisciplinary project teams
Team building and team workshops for diverse teams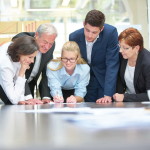 Companies are increasingly looking for team players. A team of engineers or marketing specialists of a similar age might not have any problems. But what about interdisciplinary project teams, mixed-age teams or other diverse teams? For intercultural teams please click here: bi-national or multinational teams.
Diverse teams bring together different perspectives and working methods. Different generations and genders often bring different ideas and expectations. When scientists are working together with salespeople, sparks can fly.
But this friction in diverse teams can lead to great progress in content if team members accept each other and respect each other despite their differences.
Employees in diverse teams often ask themselves the following questions:
How can I strengthen my position in the team?
How can I assert my interests?
How do I deal with "difficult" colleagues in a diverse team, and the resulting conflicts?
Companies with diverse teams thus face the following challenges:
How can our diverse teams work together better?
How should diverse teams deal with conflicts?
How can our teams bring together their different perspectives in terms of content to their advantage?
How can the different generations, genders and personalities in diverse teams benefit from each other?
How can our diversity management support diverse teams?
 How you benefit from team-training sessions and team building for diverse teams:
effective cooperation in the diverse Team and better results
generating synergies through different perspectives in the team
integrating all potentials within the company
promoting women in male-dominated sectors and professional fields, and vice versa
project security
Training content for team training and team building for diverse teams
A team-training session or a team building event takes usually 1 – 3 days. We tailor the training precisely to your requirements. Contents might include, for instance:
Diversity: how gender, age and national origin influence our attitudes to work and working habits
What is important to us at work? What different values determine our actions in the workplace?
Clarifying mutual expectations
Creating a team profile for the diverse team (e. g. based on Belbin)
Establishing common team rules
Dealing with conflicts
Team-building exercises for better cooperation and a positive team experience
What influence does corporate culture have on our work?
Organise a communication and team-training session or team building for your diverse teams. Take advantage of the opportunity for team members in diverse teams to discuss cooperation in a moderated meta-level group, while avoiding heated professional differences of opinion. The team-training sessions can be tailored to the needs of your diverse teams and your company. Contact me with no obligation and we can talk about what makes sense in your particular case.